Why hire a virtual assistant for customer support? Lately, this question has gained significance. Every thriving company needs great customer support to ensure service meets all customer needs. Appointing a virtual assistant is a profitable way to provide quality service to your customers.
What is a virtual assistant for customer support?
Virtual Customer Support Assistant is a professional handling customer service management, such as receiving and placing calls, sending emails, and responding to customer chat messages. Companies can hire them to help with technical issues, customer service inquiries, and more.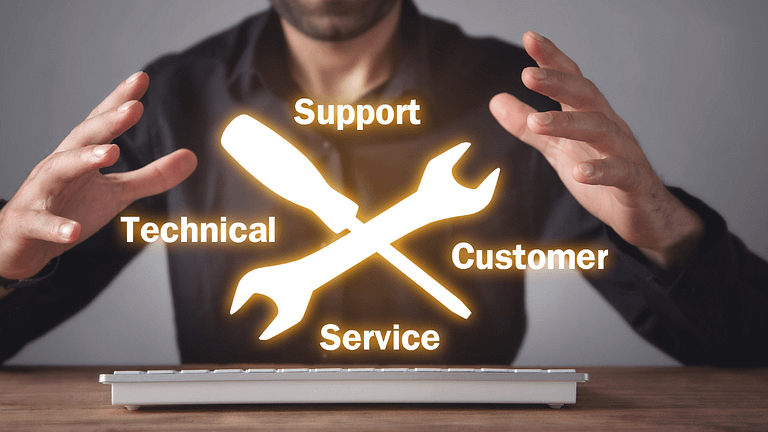 Many business owners still prefer to have someone to handle direct customer support. Because they can interact with people naturally when solving their problems or responding to customer complaints.
We use chatbots – Why hire a virtual assistant for customer support?
Chatbots are a great process to connect with customers and provide support. It's easy to use, and customers can get help from a virtual assistant without leaving your office. But they fail to offer the level of customization that the best virtual customer support assistants can support. Therefore, it's best to have a human virtual assistant backup for your chatbots.
Using human and digital customer service is effective for a new company or growing company that needs fast service to all customers. Chatbots can work quickly and answer customer questions at the same time without having to wait for another customer to complete. In addition, Chatbots can help you efficiently respond to specific questions about your business so that your human assistants can focus on unusual or highly specific questions.
Virtual assistants can give customers a more personal touch with a strong customer support system. They can generally communicate with buyers, solve their problems, or respond to customer complaints.
Why Hire a Virtual Assistant for Customer Support?
You might want to hire a virtual assistant for customer support for several reasons. For example, if you have a large client base and you do not have the time or resources to support yourself, a virtual assistant can help. Furthermore, if you are a startup and do not have a large customer base, Virtual Assistant can help you retain your clients with high-quality support.
Also, you can feel secure in the service provider's ability to respond to your needs. In addition, the support assistant is one of your client's first points of entry into your company, so their interactions are invaluable.
Still not convinced? Here are more reasons to hire a virtual assistant for customer support!
Operational Benefits – virtual customer support assistants and your bottom line
There are several operational benefits to using Virtual Assistant for customer support. For example, a virtual assistant can help reduce the number of customer service interactions within a company. That way, your customer service team can focus on better conversations with customers and clients without leaving the essential questions.
Other benefits that a virtual assistant system can provide for a company's operations are:
Save money on equipment and training
A virtual assistant provides operational support to your team, reducing costs associated with customer support. This includes uptime support, responding to customer inquiries through various mediums, and troubleshooting.
In addition, managed service providers handling virtual experts also provide training and equipment for assistants in their talent pool. This can include preparation, on-the-job training, professional expansion, and more.
The company does not need to pay additional training costs for customer service, which is ideal if your company is new or on a low budget.
No need to rent office space
Second, you don't have to rent office space for a virtual assistant. Since help desks work remotely, they can provide efficient support even if you don't offer them a cubicle in your office. Not having to think of additional overhead expenses is a blessing for a thriving company. The matter is even more significant if you consider that customer service professionals directly impact retention.
Unloading the cost of employee benefits
Providing employee benefits is mandatory, while that would lead to an increase in expense. Switching to virtual customer support may be the best way to reduce the cost of employee benefits.
With a virtual assistant, you can keep your on-site team small and reduce costs on benefits. In addition, appointing a virtual assistant through service providers further reduces costs, as you only have to pay a direct monthly fee to the provider.
Growing companies should consider using virtual assistants as customer support. Having a VA is beneficial for business growth.
HR Benefits – virtual assistants for customer support and your productivity
Virtual assistants for customer support can also be very helpful in raising the productivity of your internal employees. Here are some reasons!
Focus on critical tasks
Some days, your social media pages, website chats, and emails have many customer problems coming to you from all sides. Unfortunately, it may take a full business day to resolve these issues.
If you do not want your company employees to handle this, having a virtual expert for help desk management is best.
When you have a virtual assistant, your employees can focus on other tasks that are more important to your business. For example, they can work on projects close to their primary responsibility instead of putting out fires.
Improving the quality and efficiency of work
It will make a difference if someone is on hand to respond to direct messages and chats. First, it gives visitors the impression that you are always at the top of things in your company. By providing timely and efficient support to your customers, virtual support programs can help you improve customer satisfaction.
A competent virtual expert can take the time to talk to your developers, UX designers, or anyone who works closely for your products. They will do whatever they can to understand how to solve more complex technical problems.
Work fatigue reduced turnover
First-class virtual support is useful for reducing the stress that arises from the customer-handling role. Let's face it – we're not all people's person, but customer support assistants are! They know how to handle interactions skillfully and with a smile.
An in-house employee may know your product's or service's important functionalities, but they might not be equipped with the interpersonal skills to convey what they know. On the other hand, customer support assistants are skilled at handling emotions. They can guide someone with restraint through an action, respond to questions quickly, and listen to angry callers without getting angry.
A warm and welcoming person at the top of customer support will give your visitors a more positive experience. Best of all, other employees won't feel pressured to accept a role they haven't signed up for.
Brand Benefits – VA and customer success
Lastly, having a Virtual Customer Support Assistant can contribute to your brand and people's impressions about the brand. Here are some ways a virtual assistant in customer support can help a brand succeed.
Provide twenty-four-hour support to customers
The virtual assistant customer support team can be available 24/7 to help customers with any issues. In addition, VAs offer a variety of benefits to their customers. For example, you can train a virtual assistant to proactively find the best response to a visitor's concern.
Covering fluctuations in customer orders
If you have VA for customer service, it will be easier for you to handle inquiries. In addition, fluctuations in demand will not increase the workload on your employees as there is someone whose job involves taking questions and troubleshooting issues.
And even if the demand exceeds the capacity of one person, you can easily enhance it. Because virtual assistant service providers will provide you with more VA as required.
Keep professional image
Virtual assistants are trained to work for the betterment of your company. While on the job, they will not endanger your reputation by acting in a way that is inconsistent with your message and branding. As long as you guide them about what your company is, they will work to give all your customers a better experience.
Conclusion
When you require customer support, a virtual assistant can help. You can save time and expense by hiring VA on your team. In addition, you can be sure that your virtual expert is always working hard to provide you with the best customer support.
The quality of service is our priority in the Perfect Virtual Team, so our assistants will prioritize it when they join your customer support team.