We are entering the post-epidemic era, but remote work is not going anywhere. About 70% of people currently work from home full time.
However, despite this being a successful business unit and the increasing demand for remote work opportunities, employers still face difficulties in managing remote employees, especially virtual marketing assistants who have not previously interacted with them.
Instead of trying out the old marketing tools and techniques in the office, you need to use a business strategy designed to work with virtual support teams and remote employees as a small business owner.
This article discusses remote management tips and how to motivate and focus on in-house employees and virtual marketing assistants.
The Biggest Mistakes of a Remote Manager with Virtual Marketing Assistants
The biggest mistake you can make as a manager is to treat virtual assistants like office workers.
Even if they are working on the same tasks, the approach and process of working remotely are very different from the office setup. For example, suppose you want to create a working company culture with virtual marketing assistants, you need to find new ways to track employee performance and communication, especially in digital marketing and social media management.
Some of the biggest mistakes made by remote administration when managing a virtual assistant include:
Exclude virtual assistants from urgent meetings and critical decisions
Not establishing a relationship with your virtual marketing assistant based on trust and mutual understanding.
Not paying attention to victory and success because they are not achieved in the office space.
Not providing enough growth opportunities for your marketing assistant in a remote workspace.
Remote employees should not feel part of the team, especially in a mixed work environment.
These may seem like small components to the individual, but when taken together, they can lose the enthusiasm and interest of an experienced virtual marketing assistant in their work. Of course, it hurts their business growth, but it also hurts your company's growth and success.
Fortunately, with a few simple tips and management efforts, you can significantly improve the working conditions for remote workers.
9 Tips To Effectively Manage Remote Team In 2022
As a manager, you must provide your virtual marketing assistant with all the tools necessary to create and maintain a healthy office culture, even when working remotely. It's no secret that maintaining a VA marketing program is key to a company's success, especially in remote environments where you are not physically located in the same workplace.
We've compiled a list of some essential tools and methods to keep your employees productive and motivated while working remotely.
1. Set clear goals and expectations for virtual marketing assistants
The only way to grow your business is to understand your goals and objectives as a company. Otherwise, you may often feel you have no idea where your company is going. In a remote organization, you need to set the same goals and personal goals of the company for each virtual assistant so that everyone is on the same page and working on the same marketing efforts and social media marketing strategy. It is also important to instill in your employees a growth attitude, motivate them to work hard, set expectations for themselves, advance their careers, and contribute to the company's success.
2. Digital tools are your friends when it comes to virtual assistants
If you own a small business, you may be able to keep track of what projects each virtual assistant is working on and where they are in the process. However, it can be difficult to keep track of everyone's progress when dealing with a large number of employees and various projects simultaneously.
Various online project management software is a great way to simplify your tasks and keep track of deadlines. In addition, most of these digital tools are cloud-based, so you and your team don't need to be in the same office to use them when planning your marketing campaign.
These tools can track deadlines, see which projects are currently active, and evaluate each team member's contribution to project success. In addition, these tools enable clear communication and coordination between teams, ensuring everyone is on the same page for the project.
3. Don't ignore your virtual assistant's opinion
You want to provide a pleasant work environment for your remote assistant in the long run. As a result, it's important to consider the opinions of your employees when making decisions about company culture. Encourage your employees to contact you with any ideas or feedback they may have. Tell them they can come to you if they have a problem.
Assuming they are reluctant to address these issues openly with you, private and public survey tools are readily available online that you can use to gather input on how to improve the quality of your team's work. This will make your team members feel valued and increase their productivity by providing a work environment in which they feel valued and secure.
4. Discuss performance and constructively criticize your Virtual Marketing Assistant
Performance appraisal is important, as mentioned earlier.
However, when managing virtual marketing assistants and remote employees, you need to know how to give feedback without annoying your colleagues. While employees need feedback to improve their work performance, they may feel less interested in providing better results if they are not properly distributed.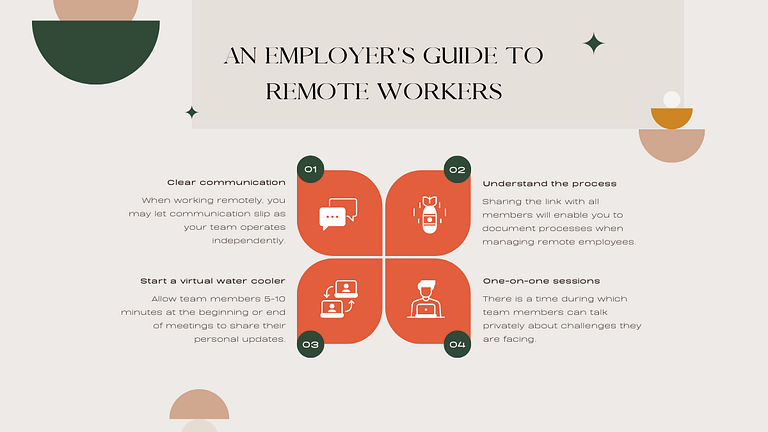 Instead of focusing on flaws, try highlighting areas where virtual marketing assistants have performed best. Then, instead of criticizing them for what they haven't done, reach out to them to develop a strategic plan for how to make progress in that area. Also, when they do a good job, tell them you appreciate it because it helps them feel that you understand their work.
5. Don't underestimate the power of communication with your virtual assistant
Working with a person in the same space makes it easier to know their personality, body language, and temperament. As a result, it is easier to communicate with them. However, in a remote workplace, you should try to understand without interacting directly with your virtual assistant. Schedule group and one-on-one video sessions as often as possible to discuss marketing strategies. Also, keep in touch with your virtual marketing assistant, as things can get lost in translation through written communication.
Many free video conferencing apps, including Skype, Zoom, and Google Meet, are available to make it easier for you to interact with your Virtual Marketing Assistant. If possible, make the video public during these calls, as looking at a person can help you build a better relationship and better understand your team through non-verbal cues and gestures.
We recommend setting aside some time for non-working topics in this meeting—finally, schedule weekly / monthly meetings for your remote employees to connect outside the office.
6. Detailed risk management
Managers can often monitor their employees in the office by visiting them and chatting with different teams. However, these mid-day check-ins are not practical in remote working environments. As a result, micro-management of employees is common among remote business owners and managers.
Instead, we suggest that your employees trust their jobs and let them call you for help if they need it. You have hired remote workers for a purpose, and you have to trust them to produce the output you need without constant supervision.
Instead of micromanaging, try to build strong bonds with them. Investigate their family and personal lives. If your employees think they can trust you, they will be less afraid to ask you questions or ask for help if needed.
7. Design a Rewards Program for your Virtual Marketing Assistant
Remote employees often feel that their efforts are not appreciated, which causes them to lose motivation. Implementing reward programs will not only make them feel valued but will also make them feel valued, happy, and productive. Another major concern for remote employees is that they often leave their jobs because working from home makes it difficult to be part of a team. On the other hand, praising their work will make the employees appreciate and motivate them to contribute more to the organization's success.
8. Make time for performance reviews of Virtual Marketing Assistants
Regular performance reviews benefit your employees and your company's growth. A quarterly or half-yearly review of their progress will help them see where they are thriving professionally and where they need to improve. This knowledge will help guide your employees in the right direction. You can focus on improving a person's skills, for example, if they do not have specific talents. Alternatively, if they have an area of work in which they excel, you can assign them additional responsibilities. This allows them to use their work time more efficiently and productively.
9. Leadership and purpose with Virtual Marketing Assistant impacts in the long run
Try to instill in your employees a sense of purpose to make them feel they are contributing to a larger goal. Try to convey the company's ideals and the huge impact of their work on the world.
Include these topics in your team's regular communications, so that company values are embedded and reflected in their work ethic.
Virtual marketing is the new normal
Undeniably, the workforce is difficult to manage, especially in remote areas. However, when your company's success is due to your excellent management, it is a feeling of satisfaction.
The key to successful leadership is to look for mistakes before they happen, and we hope this article will help you motivate your employees despite the physical distance.